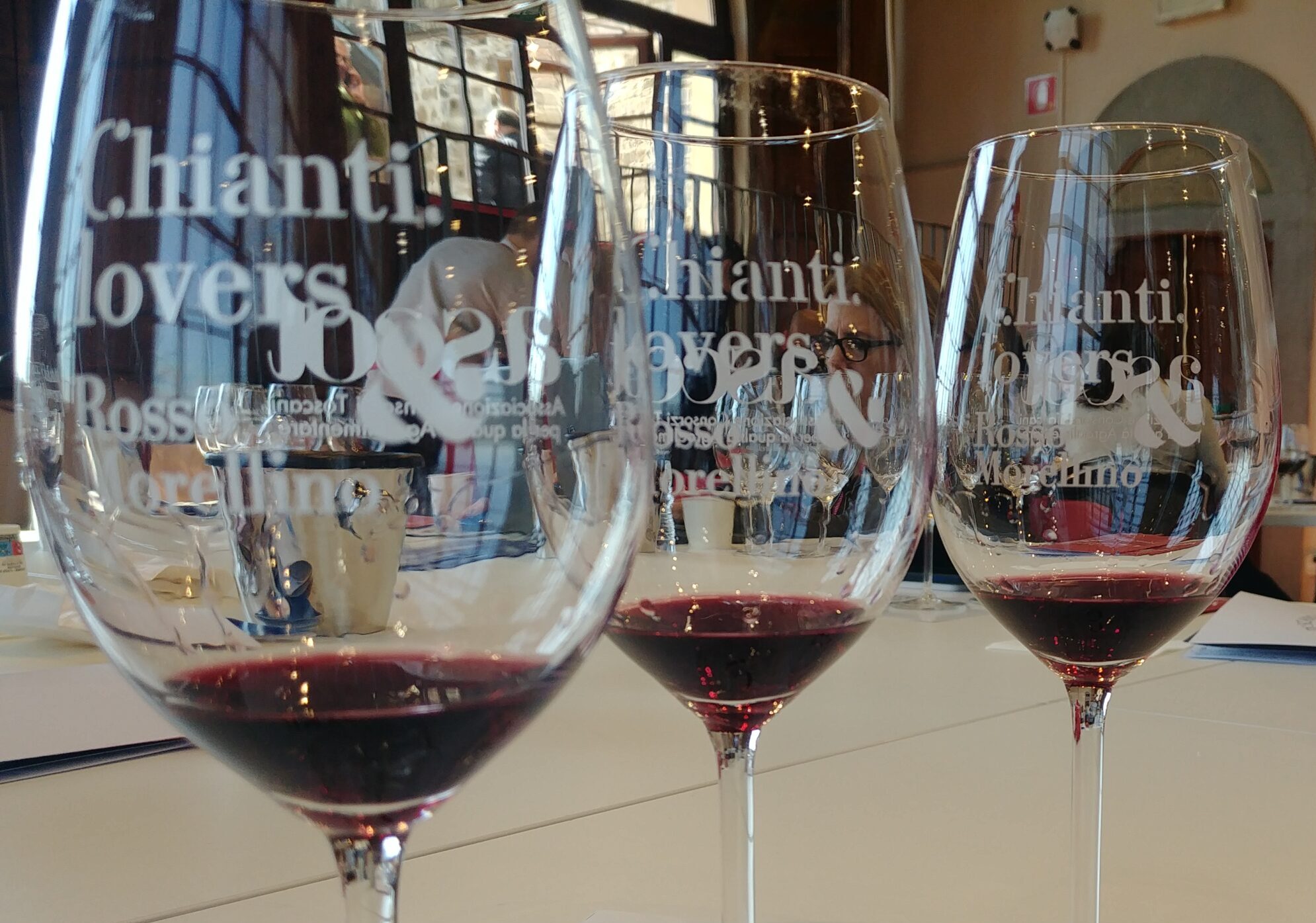 Chianti Lovers & Rosso Morellino 2022 (Anteprime Toscane)
First day of Anteprime Toscane 2022.
CHIANTI DOCG
Chianti is a larger area surrounding the Chianti Classico (not to be confused!). The name first appeared in the XIX century, the first delimitation of the area dates from 1932, its set of production rules (disciplinare) was first approved in 1967. Chianti obtained the top classification of Italian wines (DOCG) in 1984. Nowadays there are 15 500 ha of vineyards in Chianti, cultivated by 3600 winegrowers and wineries that produce around 80 mln liters of wine every year.
Inside Chianti there are 7 subzones with their own sets of production laws that define mainly the production area, yields and aging times: Colli Aretini, Colli Fiorentini, Colli Senesi, Colline Pisane, Montalbano, Rufina & Montespertoli. There are also two additional categories: Chianti Superiore (common for all subzones, requires 1 year more of aging) and Chianti Riserva that can carry the name of the subzone too (2 years of aging). Chianti has to be produced from Sangiovese grapes at least for 70%, the rest can be any other grapes from the approved regional list, with the limitations for white varietals up to 10% and no more than 15% of Cabernet Sauvignon. Apart form Chianti the winegrowers can produce a sweet wine called Vin Santo del Chianti while the white, rosé, novello & other sweet wines are covered by the denomination Colli dell'Etruria Centrale.
At Chianti Lovers we get the first taste of the last vintage and get the first impressions of what to expect from the other Tuscany denominations that will be released during the next 5 years ending with Brunello di Montalcino 2021 release in 2026. The years presented at Anteprime Toscane 2022 for the various subzones were the following:
2021 for : Chianti, Chianti Colli Aretini, Chianti Colli Senesi, Chianti Montalbano
2020 for: Chianti Colli Fiorentini, Chianti Montespertoli, Chianti Rùfina, Chianti Superiore
2019 for: Chianti Riserva, Chianti Colli Fiorentini Riserva, Chianti Colli Senesi Riserva, Chianti Montalbano Riserva, Chianti Montespertoli Riserva, Chianti Rùfina Riserva
The 2021 vintage is characterized by a long dry & hot (though not excessively) growing season. The rains hit the area just before harvest and that in some cases "diluted" a bit the wines (and ruined olive oil production, growers say). Overall the Chianti 2021 is a "slim" and easy drinking wine (as it should be) with slightly higher acidity than normal. I would also say that many wines can be described as "mineral" though I avoid to use this term but there's no other way to say it shortly. Around 70% of the presented wines were barrel (or tank) samples, so obviously this will not be the final product the consumer will find in the bottle. The sample only gives an idea what the final wine could be like. "Errors" with excessive extraction or overoaking are to be found less and less every year, though in "slim years" like 2021 they are more evident. I usually taste on purpose the new wines of the best producers from the previous Anteprima as well as the outsiders. In 2021 there's no rule: last year's outsiders in many cases performed well, while the top selection resulted somewhere in the middle. Which confirms once again that the 2021 was not an easy vintage and the wines first of all reflect the mastership of the winemakers and then all the rest. The 2020 vintage was also a hard one (due to the pandemics) but overall gave wines of similar quality, while the 2019 vintage was one of the hottest in history and produced mighty, concentrated wines with huge aging potential. The phenomenon that the Riservas 2018 – which was the weakest one among the last 5, is explained by the way one tastes at such a "marathon" tastings: when one knows that the vintage is good and one expects a lot from the wines, one tends to underrate them if they don't meet the expectations of the vintage. On the contrary, when one knows the vintage was weak but one finds spectacular wines (within the vintage!) one tends to overrate them. My overall ratings of the vintages based on the wines tasted are as follows:
| | vintage | samples | rating | min | max |
| --- | --- | --- | --- | --- | --- |
| Chianti (and subzones) | 2021 | 38 | 88,3 | 80 | 95 |
| Chianti Riserva | 2019 | 12 | 90,4 | 85 | 95 |
Anteprima 2022
| | vintage | samples | rating | min | max |
| --- | --- | --- | --- | --- | --- |
| Chianti (and subzones) | 2020 | 37 | 87,9 | 79 | 95 |
| Chianti Riserva | 2018 | 12 | 91,7 | 79 | 97 |
Anteprima 2021
TOP 9 WINE SELECTION OF 2022 (95-93 points)
Tenuta San Vito Chianti DOCG 2021
Tenuta San Vito Chainti Colli Fiorentini DOCG Riserva 2019
Azienda agraria Spazzavento Chianti DOCG 2021
Tenuta Casabianca Belsedere Chianti Colli Senesi DOCG Riserva 2019
Bindi Sergardi Clusium Chianti Colli Senesi DOCG 2021
Malenchini Chianti Colli Fiorentini DOCG 2020
Tenuta Sette Ponti Vigna Pallino Chianti DOCG 2021
Fattoria di Poggiopiano – Galardi Chainti Superiore DOCG 2020
Tenuta Cantagallo Il Fondatore Chianti Montalbano DOCG Riserva 2019
TOP 12 WINE SELECTION OF 2021 (97-94 points)
Fattoria La Leccia Chianti DOCG Superiore 2019
Cantine Leonardo Da Vinci Chianti DOCG Riserva 2018
Castello di Poppiano Chainti Colli Fiorentini DOCG Riserva 2018
Poggio Bonelli Chianti DOCG 2020
Fattoria Selvapiana Vigneto Erchi Chianti Rufina DOCG Riserva 2018
Fattoria Selvapiana Vigneto Bucerchiale Chianti Rufina DOCG Riserva 2018
Salcheto Chainti Colli Senesi DOCG 2020
Fattoria Uccelliera Chianti DOCG Superiore 2019
Fattoria di Poggiopiano – Galardi Chianti DOCG Superiore 2019
Castello di Poppiano Chianti Colli Fiorentini 2019
Fattoria di Poggiopiano – Galardi Chianti DOCG Riserva 2018
Tenuta Cantagallo Cantagallo Chianti Montalbano DOCG Riserva 2018
MORELLINO DI SCANSANO DOCG
… is coming soon 🙂