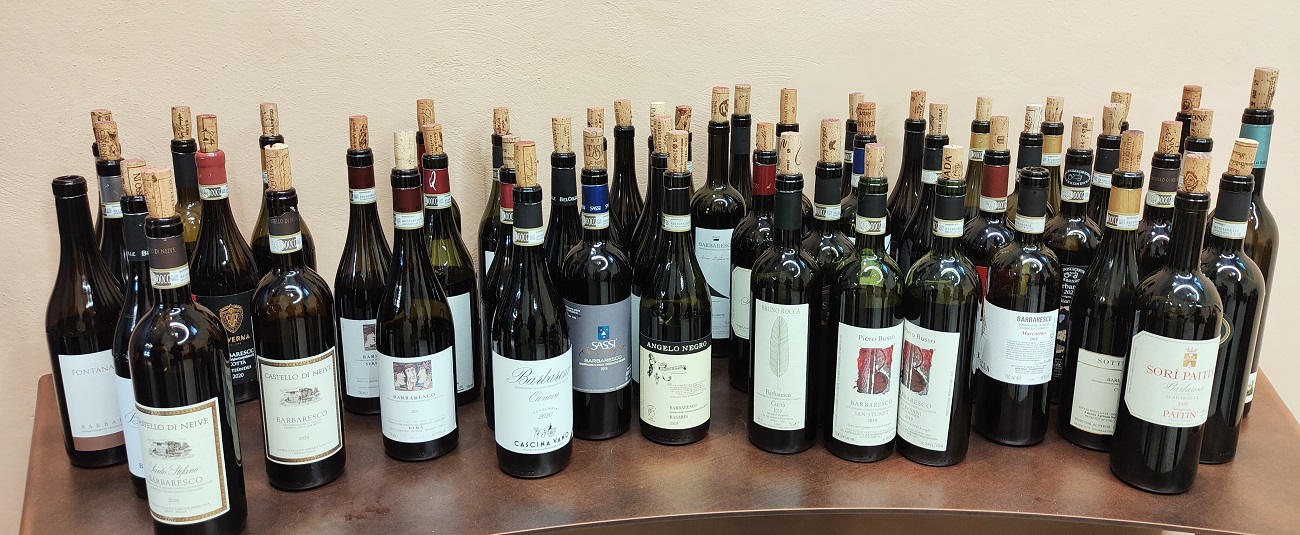 Barbaresco 2020 (14/04/2023)
(this article was initially written for the Barbaresco & Barolo group in Facebook, but became too big while I was writing it, so I had to publish it here)
Tasting of the day: for the first time in history a wine critic that comes to our lands to taste the newly released vintages decides not to dispose of 200+ freshly opened bottles each of one missing 100 or so ml of wine, but to share them all with the winemakers that sent their wines for the tasting. So today the keywords were #Barbaresco2020 & #BarbarescoRiserva2018 as well as several late releases from previous vintages. Thanks Kerin O'Keefe #KOwine for sharing and our Enoteca del Barbaresco for hosting this tasting. Though by the end of the day the back room of the new-old Enoteca was overstuffed with winemakers, it was fun, nobody wanted to leave and we put nervous the Enoteca's girls who were trying to close the place at the end of its working hours.
Usually I taste the new vintages at Nebbiolo Prima but this January I was not in Italy, so I missed it. So I was very happy when this opportunity turned out. By the time I arrived there were 150 wines at the tasting tables, but Kerin was still tasting so the girls kept bringing new wines. For 2,5 hours I tasted 37 Barbarescos 2020, 9 Barbarescos 2019 & two riservas 2018. I didn't taste everything I wanted, like there was a Rabajà & Gallina 2016, Rio Sordo 2017, Camp Gros 2018, didn't taste Lodali, Cecilia Monte, Musso & Piazzo whose wines I tend to like, even missed one Bruno Rocca's wine. But there will be a couple of more upcoming events so I will try to catch up. And also I was very curious to taste some wines we recently discussed in the group that I have never tasted before. Frankly, I didn't even expect to see them there, but Kerin spells magic on the winemakers and they are happy to bring her everything.
2020: my expectations were lower as from technical point of view (polyphenol content) the first analyses after malolactic put it at the same level as 2018. Though that as a whole lead to more "eatable" tannins in the wines and hence more "ready" wines in the release year, they are much more structured, plush, with good volume in the mouth – 2020 after all was quite hot and relatively dry year. Very few wines were overextracted and/or made in a Barolo style (in previous years this happened more often). Most od the wines are super fragrant with loads of berries in various stage of maturity, plenty of flowers, fresh & dry. On this parameter (at the moment) 2020 neatly beats out the 2019, which, nevertheless, is one of the greatest years ever in the Langhe.
Brief tasting notes follow with the best wines among those that I tasted plus a selection of some interesting or "out of the range" wines that I came across and/or haven't tasted before. I don't like standing tasting as I can't make proper tasting notes, so they are as they are, sorry (I mean they are much less descriptive and poetic as the other members of this group tend to publish).
BARBARESCO 2020, 99 – 95 points, in order of preference
🍷 Olek Bondonio Barbaresco 2020 Starderi (Neive)
«n: wow!!! fragrant, loads of flowers, elegant, expensive perfume; t: pas mal, pas mal!!! plush, rich, velvet glove with an iron fist, veeeeery long!!»
🍷 Manera Fratelli Barbaresco 2020 Rizzi (Alba)
«n: mighty, "expensive", woof!!! v good; t: juicy, meaty, a wine for carnivores, excellent!!!»
🍷 Nada Giuseppe Barbaresco 2020 Marcarini (Treiso)
«n: fragrant, mighty, classy; t: wow!!!, super, v long, thick, plush tannins»
🍷 Cascina Luisin Barbaresco 2020 Rabajà (Barbaresco)
«n: mighty, inky, dark fruit, slightly balsamic; t: wow! super juicy but loaded w/ fine tannins, v long, super rich aftertaste»
🍷 Poderi Colla Barbaresco 2020 Roncaglie (Barbaresco)
«n: musky at the start, but airs up, the rose comes out, powerful, multilayered; t: v fine, mighty for the vintage, rich, sticky dusty tannins, dry tannin + juicy berry aftertaste, bravo! V good potential»
🍷 Castello di Neive Barbaresco 2020 Albesani Vigna Santo Stefano (Neive)
«n: strict but still a rich gentlemen in an expensive suit; t: mighty but dusty tannins, burst of taste, 4D, v long»
🍷 Francone Barbaresco 2020 Starderi (Neive)
«n: more fragrant (than his Albesani) a bit "hot"; t: more dry, definitely another stricter style, tending to Barolo. v long aftertaste w some smoky juice notes»
🍷 Olek Bondonio Barbaresco 2020 Roncagliette (Barbaresco)
«n: dry prunes, dates, sweet spice, unusual, interesting, develops; t: dry, slightly more tannic than the others (but good), long dry tannin and prunes aftertaste, bravo!»
BARBARESCO 2019, 98 – 94 points, in order of preference
🍷 Piero Busso Barbaresco 2019 Albesani (Neive)
«n: "of the year", promising, multilayered, tobacco, spices, various berries; t: juicy, beautiful, mighty, classy, v good structure, looooong smooth tannin aftertaste, wow!»
🍷 Guido Rivella Barbaresco 2019 Marcorino (Neive)
«n: milky (??), airs up, reminds me more of a Brunello, some evident oak; t: killer grainy tannins, mighty one! V drying but pleasant developing dry strawberry – stones – tobacco aftertaste, v good!»
🍷 Rosanna Sandri Barbaresco 2019 (Treiso)
«n: a bit funky, popcorn, caramel, dry strawberries; t: nice, thick structure but v nice tannin, bravo!»
🍷 Sottimano Barbaresco 2019 Currà (Neive)
«n: rich, fragrant, perfumed, some balsamic+ stones; t: v juicy, elegant, much to the year and another stile than their Basarin & Cottà»
🍷 Piero Busso Barbaresco 2019 San Stunet (Neive)
«n: even mightier (than his Albesani), rich, inky, classy, elegant, "baroleggia"; t: killer tannins, but a lot of body & juice, needs time, v good potential»
OUT OF THE RANGE:
🍷 Rosanna Sandri (mentioned above) caught my attention with this a bit unusual label and with a woman's name on it (not to mention Sandri). Though we have a lot of women ruling local wineries, only Cecilia Monte comes to mind of those that put their name on the label. Rosanna is the mother of Roberto Prandi (the winemaker behind this label) and the owner of the vineyard where the grapes come from. Roberto has been working for Montaribaldi since I've known him (when I was a Barolista and made some Barbaresco too, Montaribaldi was my local host winery). Though I've met him twice recently and he told me that he has quit and returned to the family estate in Roero and that he makes some Barbaresco I thought it's under the family brand (Ca'Rossa). So I found out all this after I tasted the wine (no prejudice). Quite a good start, I'd say, to keep an eye on.
🍷 Francesco Versio, known for being the last Bruno Giacosa's winemaker and also my classmate from the University (no, he's not that old, it's me that studied enology 20 years after I should have). He works for Oddero in Barolo, this is his own project. His wine stands out as it was the only one among the tasted that was made in a very modern, light and elegant style but with all the character of a Barbaresco. One of the most fragrant Barbarescos 2020 I tasted.
🍷 Franco Rocca, his wine was from cru Gallina, 2018. I was told "You live in Neive and don't know him?? So you've never met him otherwise you couldn't have forgotten him". Now I am curious! About the wine: «n: way too funky, spilled ink, gun powder, hot leather; t: a bit oaky, funky, hard stuff!»
🍷 Bel Colle/ Bosio with his "Passato" 2019 with this "out of the range" label. Tasting notes: «n: over super indecently exuberant, loads of overripe fruits, balsamic strawberries, marshmallow, zucchero filato; t: a bit deceptive, dry & slightly bitter, drying prune aftertaste, sticky tannins»
🍷 Prunotto Secondine 2020: Secondine is the official name of Sorì San Lorenzo, the one we discussed here in the group some time ago. Prunotto doesn't have a vineyard here, but buys the grapes from La Spinona (I was told). Tasting notes: « wwwwow!! That's a mighty nose!!! A bit too polished and too many off-odors though, like an open Coca Cola bottle, forgotten In the cupboard for a week; t: elegant, elaborated, international style, good but not typical»
Also I tasted Cascina Vano 2020 Canova (Manuel wouldn't have forgiven me – je suis joking) – a monumental seamless elegant Barbaresco. I "penalized" it with 1 point (94 that's why it's not in the list above) for the humble nose at the beginning but it develops in a very unusual and interesting way in the glass.
I will add the rest of the tasted wines later.