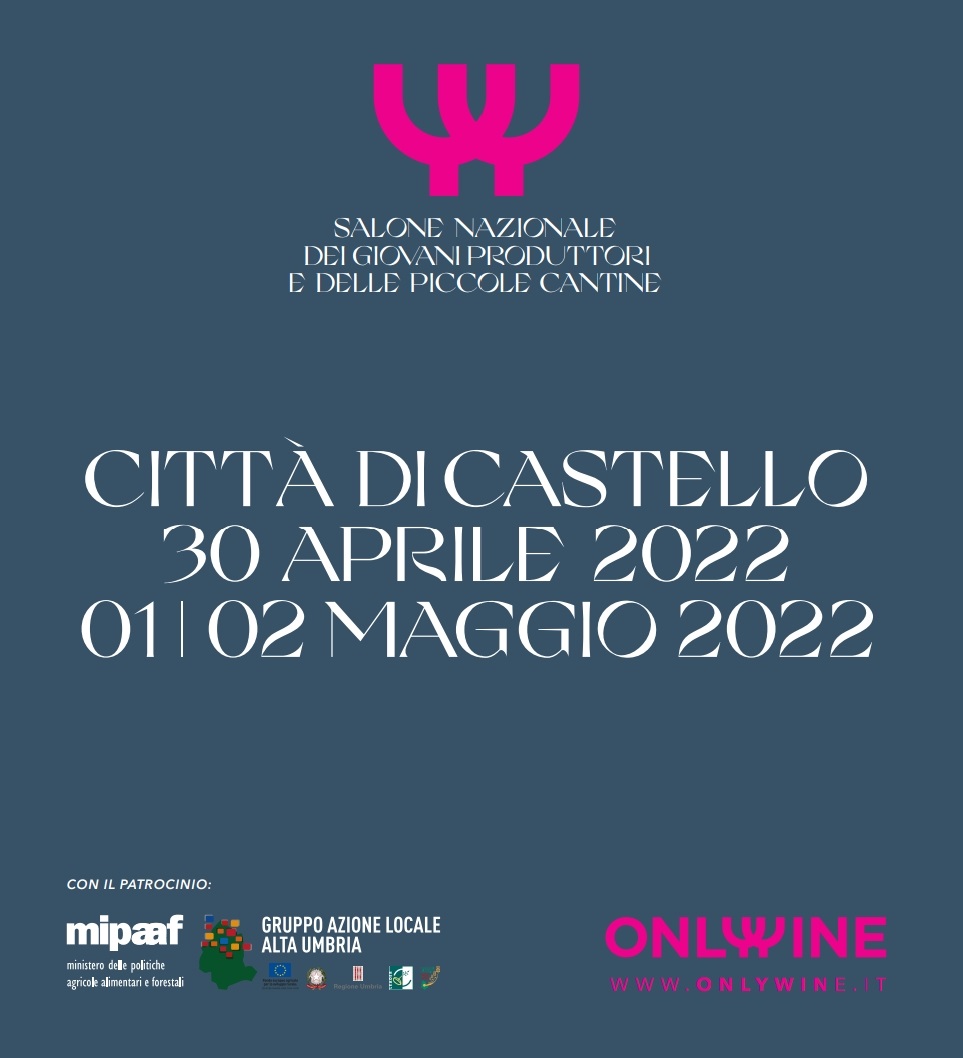 Only Wine 2022 (Città di Castello), day #1
Some of my picks from the first day of #OnlyWine. Today I did only seminars and masterclasses. Visiting wineries tables was a bit difficult, first because of the loads of locals, thirsty from any point of view for wine events after two years of abstention & second, I need time in order to understand in what carefully managed disorder the wineries are placed inside the event area.
The first masterclass was held by Saverio Russo (aka @italianwinelover ) and was dedicated to "snack wines" (vini da merenda). Although excellent quaffers, these are not at all simple wines, they are complex, they present a view from another angle on the variety/DOC and its potential and are all easy to drink. For the "general public", of course. For me even Sagrantino is easy to drink but I fully understand that I am a tiny minority. With Saverio we share a lot of common views on wine, winemaking and wine criticism, as well as our tastes are quite close. Today I discovered yet one more common point: we both like high quality orange wines, dry wines from aromatic varieties and rotundon (black pepper aroma in reds) and if it's accompanied by a touch of terpenes (aka Muscat's fleur d'orange) that's a huge plus. All the wines from his selection were excellent (as well as the ones from the following seminars), but I'll "showcase" the 4 best out of the 8 presented.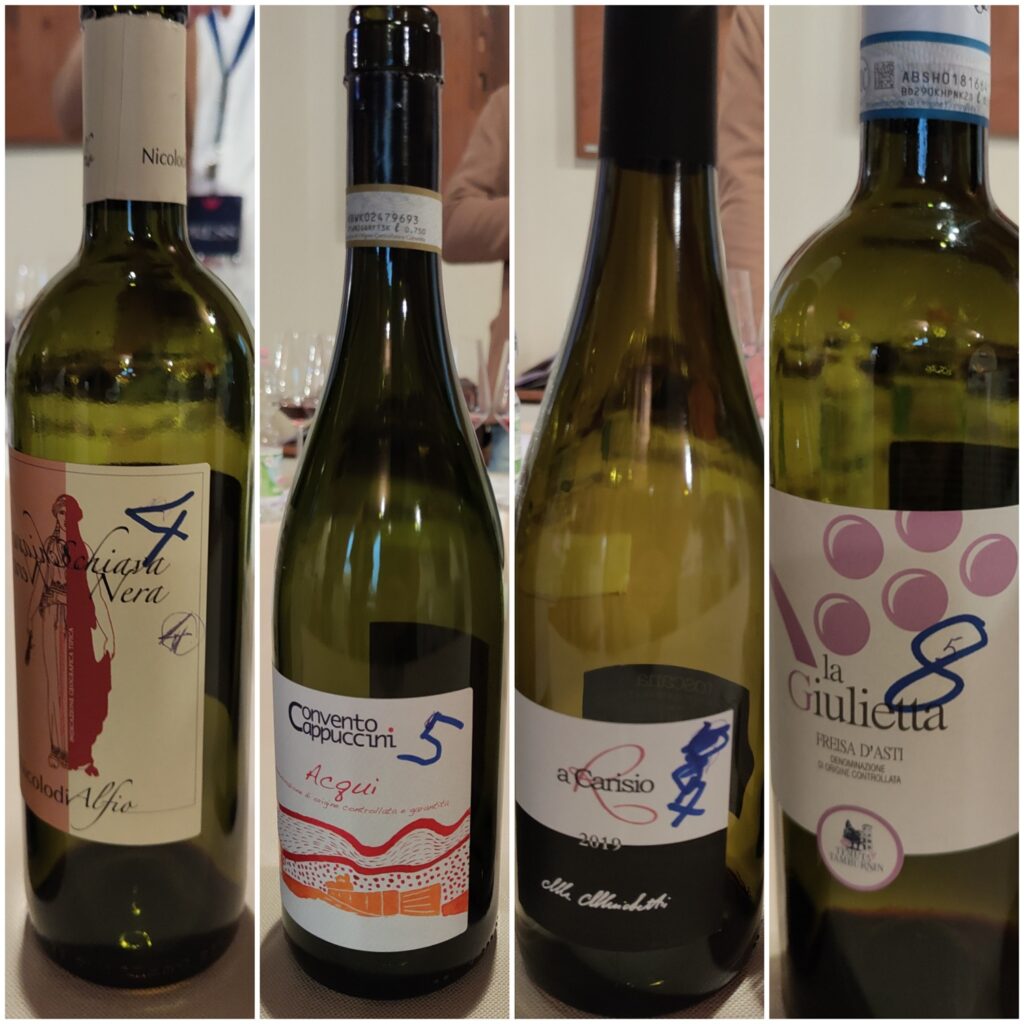 4. Alfio Nicolodi Schiava Nera Vigneti del Dolmiti IGT 2019 , yes, aged Schiava (or Trollinger in Germany) is a "surprise" by itself. A Pelaverga-like wine (faint color, black pepper), spicy & fruity with some berry merengue in the nose, savory, easy to drink and with a long slightly tannic aftertaste. €10 (tannico.it), 94/100
5. Convento Cappuccini Acqui DOCG 2020 (dry, still red) – made of Brachetto (aromatic variety with pale red skin color). In between a well made Beaujolais (God, forgive me!) and a new-style Spät. Slightly spicy with a distant floral bouquet. Long red berry aftertaste. €26 (vivino), 93/100
7. Maurizio Menichetti "A Carisio" Toscana IGT Rosso 2019 – Maremma Toscana, 60+ years vineyards, mixed plantings of Alicante Bouchet, Malvasia Nera, Francesina, Sangiovese etc. Nose initially closed but opens up, quite good concentration with palpable tannins and long ripe wild berry aftertaste. Maybe not that "easy drinking" wine. Given that the author is a well known Michelin star chef and winemaking for him is a hobby the price point of the wine is more than decent. €35 (vivino) 93/100
8. Tenuta Tamburnin "La Giuglietta" Freisa d'Asti DOC Vivace 2020 as it often happens a villa with a vineyard that a Turin geometra bought with the dream to spend his time after retirement amongst nature, turned into a new winery with 4 ha of producing vineyard. Castelnuovo Don Bosco, the land of the Malvasia di Casorzo. Freisa (and lately Nebbiolo) are also popular. This Freisa is made as tradition commands with residual CO2 – a style Turin consumers particularly hate, as I discovered during the Turin Wine Week that took place a week ago. As this was the last but one wine in the tasting and nearly all of them were poured at the start, there was no trace of CO2, so I can only guess how's the "real wine". But without it the wine looked also good & holistic, the nose is slightly terpenic (as inevitably some Malvasia vines grow together with the old Freisa and this is a variety with serious impact on every wine it gets into even if the percentage is insignificant. So, spicy and fragrant, smooth structure with suave tannins and perfect acidity. €8.90 (svinando.com) 94/100.
The second second event was a technical tasting lead by Chiara Giorleo (@ChiaraGiorleo_WineGuide), the subject was "White wines for aging": judging color, nose and palate, what to expect in the nose, where it comes from, oxidation / reduction during aging etc. Chiara is DipWSET so we differ "a bit" on what to call primary, secondary & tertiary aromas (I "belong" to Prof. Alain Rasungles school and tightly stick to it) but apart from that everything else was at top level, including the selected wines.
1. Dianetti "Luciano Campo Vallerosa" Offida DOC 2019: 100% Pecorino that's gaining a huge momentum in Marche and adjacent regions. Perfectly made and "fitting" into the style (whites for aging), very expressive & rich nose, with flowers, flint, vanilla, candied yellow fruits, very good balance and a palate as expressive & exuberant as the nose. The price though "bites". €47 (gallienoteca.it) 93/100
2. Rabottini "Per Iniziare" Trebbiano d'Abruzzo DOC 2015: Simple marketing form Italy's "most simple" wine region (Abruzzi): per iniziare (to start) for the Trebbiano (white), per continuare (to continue) for the Cerasuolo (rosé) and per finire (to finish) for the Montepulciano (red). A wine made in explicitly oxidative style maybe also with no SO2 (or very low added SO2) – all the typicity of a sherry fino. If one tastes it blind that would be the number one guess. It's integrated and "sounds good", also this is not the current vintage in sale (the winemaker takes part at the event so I will check later on the newer vintages) but for that price (€15-30, horeca), I'd better have Tio Pepe. Will rate it after I check the other vintages.
The third masterclass was also proposed by Chiara Giorleo and was dedicated to The wines of Vesuvio. I must admit that I've been to the anteprima of Campania (@CampaniaStories) twice but I've never had such a comprehensive lecture on the wines of the famous volcano: varieties, soils, altitude, vineyard exposition, winegrowing and winemaking practices. A concise and very practical lecture, bravo Chiara! We had 7 wines: one sparkling Caprettone, one young white (Coda di Volpe, Falanghina), one aged white (Caprettone), one emerging white (Catalanesca), one rosé (Piedirosso, Guarnaccia & Sciascinoso), one young red (Piedirosso) and one aged red (Piedirosso, Aglianico). They were all good and representative of the respective categories, but I'd showcase two of them:
4. Olivella "Katà" Catalanesca del Monte Somma IGP 2020: a true discovery. I tend to like more Campania's whites than its reds (also a global tendency) but this one blew me off (as the rest of the public – we unanimously voted for it as number one wine in the set at the end of the tasting). When just poured it seems quite "conventional" but starts to develop incredibly in the glass and never stops. Bergamot & grapefruit, sweetish nose with apricot yogurt notes, slightly spicy, flint & TDN coming out later on, some terpenes appear after half an hour, extremely lush & interesting. In the mouth one finds everything that was "promised" by the bouquet, very fruity & exuberant, long and expressive berry aftertaste. Would be interesting to see how it develops with age. As for the variety the world's biggest database says it's also called "uva catalana" but when comparing the genetic profile only one Spanish grape comes out (Imperial Napoleon) and it's red & only table grape (Catalanesca used to be also table grape but was listed as a wine grape in 2006). Probably these two grapes have a parent (or grand parent) in common. €11 (etilika.it) only (!!!), 95/100
6. Casa Setaro "Munazei" Lacryma Cristi DOC Rosso 2021: Piedirosso 100%. Judging by the young age and the fact that the wine has been only in stainless steel and not for long before it "jumped" into the bottle, one would expect a simple & easy red. It's absolutely not. Cryomacerated for 72 hours. Pungent nose with loads of berries, wild ones predominantly, a bit "green" but on the spice side. In the mouth it is opulent, very spicy, balanced , with good young tannin and perfect acidity, some saltiness & smokiness in the aftertaste. Excellent! €12 (callmewine.com) only (!!!), 93/100
Today we continue!